Although animal care and treatment is our largest expense, and many donors give without restriction, there are also those who prefer to designate their donation toward a specific program.
To designate your donation to one of the programs listed here please follow the additional donation options below.
LOVE FUND
The Love Fund helps us cover the costly medical treatment for critical care animals.
To see a beloved pet surrendered during a time of crisis is never easy. Six months ago, Golden, his daughter, Lady, and the family cat, Garfield, were brought to the Shelter when their owner lost his home. All three were collarless, and free roaming in their guardian's vehicle, but living in harmony. Initially we'd hoped that Golden and Lady would find a home together, but Lady caught the eye of an adoring family and lovable Garfield left the shelter in a flash. Sadly, senior Golden, just couldn't seem to get anyone's attention. Despite his soulful eyes and kind demeanor, Golden remained the last of his trio left at the Shelter, and in fact had his six month – 180 day – anniversary at PSAS.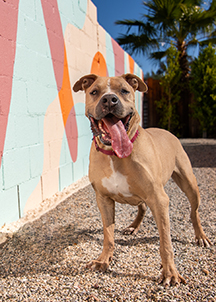 While he arrived with what appeared to be limited mobility in his rear legs, a medical exam determined that he was suffering from chronic ACL ruptures, and age induced arthritis. Our shelter veterinarian prescribed Golden non-steroidal anti inflammatories, which manage his pain and allow him to stay active. Thanks to the vigilance of our devoted staff and volunteers, Golden has gained weight, and can finally enjoy his daily walks.
The idea of providing care for a senior pet can be intimidating. Please help us offer lifetime support and medicine to help ease the burden of Golden's care for a dedicated individual or family who wants to offer a safe haven for him in his final years.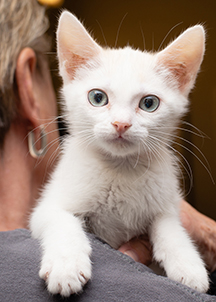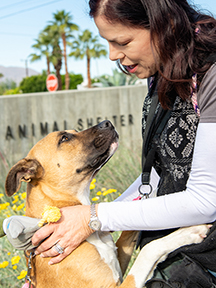 TNR AND COMMUNITY CATS
The 4,500+ neighborhood cats you see around Palm Springs are often homeless, or sometimes abandoned by their previous owners. Most have had little or no contact with humans and are fearful of people, and therefore cannot be adopted out as pets. You can help manage the homeless cat population by supporting our TNR program. It ends reproduction, stabilizes and reduces feral cat populations, improves cats' lives, and reduces our annual intake of kittens at our shelter.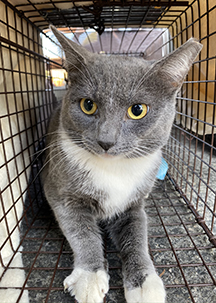 CAT COLONY MANAGEMENT
Our work isn't always complete after TNR. Occasionally, there are situations where it's unsafe or inhumane to return cats to their neighborhoods without supportive care. Examples include: the sudden passing of a caregiver, the sale of a home where a TNR colony exists, or neighborhoods unsafe for homeless cats. These are complicated situations. We have over 20 volunteers who provide daily food and water for these felines in need. Volunteers monitor colonies, watch for unaltered cats (to provide immediate TNR), and look for injured or sick cats (to provide medical care). Your donation to the TNR Cat Colony Management will assist more than 250 homeless cats currently under management.